← Back
Game Day Bundle - Hot N Spicy $42.99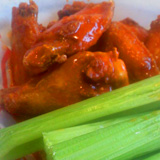 Watching the game? Looking for a fun, convenient way to liven up the evening for you or a group of friends? Order a Game Day Bundle today!
This Hot N Spicy Game Day Bundle Includes:
50 Buffalo Wings served with Ranch dressing
Celery sticks
Two 6 packs of soda
Serves 6 - 8 people
Tax not included.