← Back
Birthday Bash - Deluxe $26.99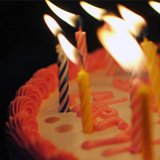 Celebrate their birthday in DELUXE style!
One large Pepperoni Pizza, one 7 inch round double layer Chocolate cake with Chocolate icing. To help with this birthday celebration we also included one 6 pack of soda, plates, napkins, cups and plastic ware. Tax not included.
Please place your order 24-48 hours in advance of the requested pick up date.